This is a post for the girls.
Since I've been writing a lot about cleaning lately and generally being a bit 'girlie' I may as well air my dirty laundry completely, and talk about the mysterious menstrual cup.
Thankfully since first writing this post these have become a lot more common and are finally losing a little of their mystery. But if you don't have a BFF who uses them to explain the details read on…
There are a few different brands out there but personally I am a fan of Mooncups.  And, though I don't have 'self sufficient' periods, I do have less wasteful and more frugal ones!
or read on to find out why I think all women should be using one!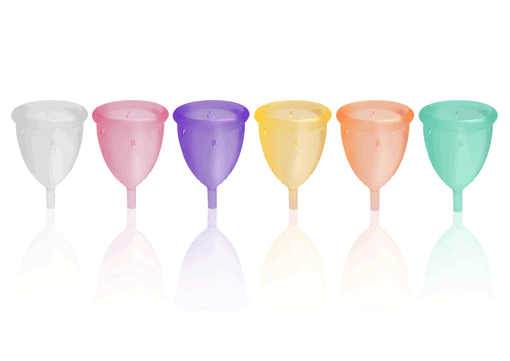 I have always worn tampons as I like having all the menstrual paraphernalia hidden away.  No bulges for me, thank-you very much.  But then as a teenager of the 1980's I did wear many pairs of leggings.  And, I'm sorry but menstrual pads and towels are not 'legging friendly'.
But, as much as I like the convenience of tampons, I have always struggled with the fear of toxic shock syndrome and general health implications of tampons.   I did look into organic cotton tampons but boy are they pricey!  And, the fact is you are still putting a rough and absorbent, foreign body where it shouldn' t really be.  So there is still a risk.
As my green awareness has grown my attitude to tampons has altered.  I stopped throwing them down the loo years ago, even though that's what we were 'supposed' to do with them.  That didn't stop the waste I produced though.  It just got redirected to landfill, rather than the sea.  I composted the cardboard boxes but couldn't find a way of recycling hundred's of tiny bits of plastic wrapper each year.
More and more, I've viewed tampons with disdain.  There is so much waste involved and they aren't any good for you.  But, I have to be honest I had no desire to return to the sanitary pads of my youth.  To those of you who use reuseable cotton pads and panty liner, my envy and congratulations.  I know I really could just make my own and be properly self sufficient in all things menstrual.  But I won't, I've had it too easy for too long.
But, my eco-guilt and fear of toxic shock syndrome won out in the end.  Last year I succumbed and purchased my first moon cup.  Silly as this may seem, I admit to being a little apprehensive; what if I couldn't use it – it cost £22!  That seemed like quite a few tampons, and not money to be wasted.  But I determined if others could manage it, why shouldn't I?
On arrival, I was a little surprised by the size.  But then, it isn't an absorbent thing so it needs to be relatively large to fit snugly and catch all the menstrual flow.  I dutifully read the instructions (all on recycled paper no less), sterilised the menstrual cup in boiling water and then used it!  It's very easy to get worked up about new things, but really it's a pretty simple business.  Which in hindsight is pretty blooming obvious.
Menstrual cups do take a little getting used to, but when when you first start your periods so do tampons and towels.  I experienced the occasional small amount of leakage and worried I would never get the hang of it.  But, even from the first month of using a moon cup, most days were absolutely fine.
As I said at the beginning I am a total convert.  If you are thinking of buying some kind of menstrual cup here are some reasons to help you decide.
Benefits of a Menstrual Cup
Environmental Benefits

Less packaging, less waste each month, less cotton (one of the world's biggest polluting industries) wasted.
Made of either latex (natural rubber) or medical grade silicon (from silica) one of the world's most abundant resources.
Financial Benefits
One payment of £20 or there abouts for years of use.  With women in the US spending, on average $150 a year on sanitary products, you get your money back pretty swiftly.
Health Benefits
No more absorbent cotton where bacteria love to multiply, reducing your risk of infections.  Also, the lack of absorbency means using a menstrual cup will not affect the mucus secretions of the vagina, which are an important part of its defence mechanism and its way of cleaning itself.
There have been no cases of toxic shock syndrome linked to menstrual cups since their introduction in the 1930's.
The smooth surface of the menstrual cups means they will not irritate sensitive skins, particularly important for those with allergies or thrush.
Vaginal health.  I have to be honest and admit I did not previously feel my vagina was unhealthy, nor that it is more healthy now.  But, I understand the principle.  Using bleaches, rough textures, absorbent gels, fragrances and so on is bound to affect the state of the vaginal walls.  Using just smooth silicon or latex has got to be better for the general state of health inside the vagina.
Practical Benefits
I didn't  really consider these before I purchased a moon cup.  But with use, there are a few practical benefits which are worth considering:
More room in handbag and bathroom cabinet.

Less stuff to carry around each month, and much more discreet.

Fewer visits to the bathroom as the mooncup will hold much more than a tampon.

Less leakage – once you get the hang of it!

The smug factor – I've improved my carbon footprint and my wallet easily!
What Type of Menstrual Cup to Buy?
Well, there are surprisingly few options, so its not so difficult.
The 'US original' is 'The Keeper
'.  It is perfectly fine, the company seems very green and good but the Keeper is made of latex.  A nice, renewable resource but some people are sensitive to latex.  I admit, the look of it, in all its brown glory did put me off, though it definitely has the best name of the bunch!
In which case the US company also offer 'Moon Cup' made of medical grade silicon.  The cloth bag to hold the Moon Cup is made by retired US seamstresses and the instruction leaflet is printed on recycled paper, so you can see the company is keen to promote their green credentials.
The 'The DivaCup
' is another big contender in the US and Canada.  It's another silicon cup looking pretty much the same as all the others.  But for packaging excesses, and the barefaced cheek of trying to sell 'Diva Cup Wash' I wouldn't touch them!  All silicon menstrual cups can be rinsed during your cycle and then sterilised with sterilising solution or by just boiling for five minutes.  You do not need Diva Cup Wash!
There are disposable menstrual cups – Instead Softcup
.  I guess they are likely to be better for your body than tampons.  They are disposable and made from a polyethylene plastic which is proven safe in medical trials.  However, I think if you are going to move from tampons to cups you may as well try and save a little bit of the planet too and try a reusable cup.  But, you can have intercourse with these in, so good if you're trying to conceive.
'Mooncup
' is a UK manufactured silicon product from a recognised Ethical company and the menstrual cup I use.  The only difference between the Mooncup (UK) and the Moon Cup (US) seems to be that in the UK we get a 100% organic cotton bag and no space in the name!
Please, if you do not already use a moon cup or any other menstrual cup, consider the move.  They can be a little tricky to start with (though I hear lots of women tell how easy, straightforward and natural it seemed immediately, so maybe its just me), but they are really worth the effort.
With a mooncup you can reduce your impact on landfill and reduce the amount of chemical toxins your body has to deal with.  That, plus all the cash you save means the moon cup should definitely be considered by anyone currently using tampons.   Everyone should try a menstrual cup!
Since writing this article these Eco tampon alternatives have grown in popularity. Now there are a growing number of different menstrual cups available, including the funky colored offerings from Lunette.  You can view a wide range here.
Just remember to order the correct size depending on your age (somewhat depressing) and whether you have given birth already.
For a more self sufficient future