This is a guest post from Andy. He lives and works in Japan and has certainly fully embraced both the culture and the way of life. Read on for lots of very good information on Japanese Rice Cookers and why they really are such a great little idea.
This article will discuss the various ways to put a rice cooker to use to prepare money saving, as well as time saving, meals. Mr. Dirty Boots has offered me the chance to discuss my frugal living tips from the land of the rising sun. One of the best pieces of money and time saving equipment that everyone in this country owns are Japanese rice cookers.
Depending upon where you live the cost of eating out can vary. However one thing is clear. It costs more to eat out than it does to prepare your own meals at home. Well, in terms of money, certainly. But then there is also the cost in time it takes to go shopping, this may incur a transportation fee as well, they you have to prepare and cook your food. To be honest this is my excuse for eating out so much. I can get a proper meal for less than 1000 Japanese yen ($10 USD) and for the hassle it saves me I often do. But if I took advantage of the kitchen appliances that I own I could really start to make some financial savings. Considering I eat out once a day, maybe twice at weekends, if I cut this down to only a few times a week I could easily save an extra $100 per month. Anyway, enough about me, let's talk about how a rice cooker can help you prepare great tasting meals and save some cash too.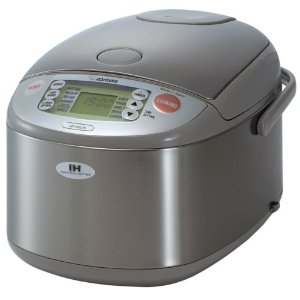 The great thing about Japanese rice cookers is that they can be used to actually make rice that tastes good enough to make you want to eat it. When I was a child I have memories of rice being boiled in a big pot of water then drained with a colander. This is just so wrong! Rice should not be wet. When you use a rice cooker, and I am biased here because I definitely feel that it is the Japanese brands that are the best, you will be able to cook great tasting rice with not a great deal of effort. When making rice the most important part is the measuring and washing stage. Once you put it in the rice cooker, there is literally nothing for you to do other than wait…or go and do something much more exciting! That is one of the features I love about these kitchen appliances. They do their thing, leaving you to do yours. While it is true that the best rice is slightly expensive, it is definitely cheaper than eating out.
But this is not the only decent thing about rice steamers. Of course they can cook rice. That is what they are supposed to do. On top of that though, they can be used for almost anything you want to risk cooking in there. There are mixes that you can buy which are added to the rice and water before you start cooking. This can give the rice some interesting flavors and actually turn it into a really nice meal on its own. Vegetables are another thing that work really well. Just by adding them to the rice either before cooking or mid-way through, depending upon how soft you like your vegetables, that is. A rice cooker really is a versatile piece of kitchenware that is worth some serious consideration for anyone looking to save money and time while eating some great tasting foods.
If you are considering buying one of these machines, here is the brand to look out for. A company called Zojirushi is famous in Japan for making the best Japanese rice cookers. They are also available on Amazon
where there are a number of customer reviews.